Payment means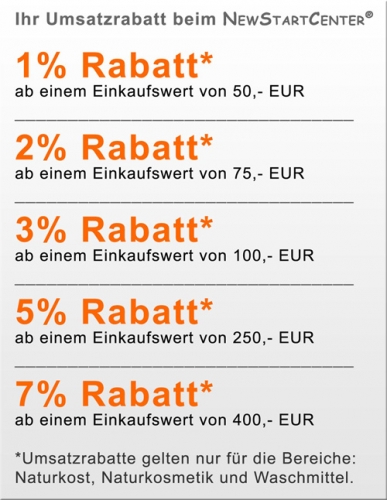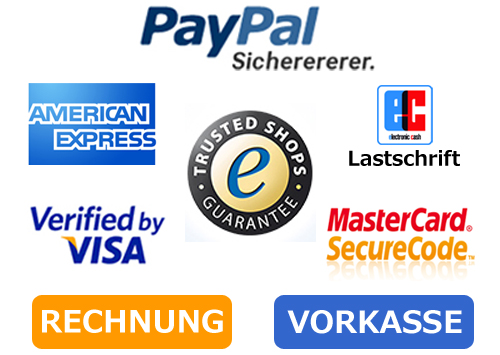 with us buy and pay you without risk.

by Saferpay
and the "money back warranty" by Trusted Shop
warranty.
And so you can pay with us.
1. Cash in advance
after final order (step 5) get sent by us a E-Mail. In these email are then all data such as bank account and intended purpose specified, which you need for transacting the bank credit transfer. If you decide your order by bank credit transfer in advance to pay, have you many advantages in relation to other payment means e.g. the cash on delivery.
Their advantages if you by bank credit transfer in advance pay:
+ They do not have to hold money ready, as with the cash on delivery the case is.

+ They save the collection fees.

+ They do not need to convey sensitive credit card data.

+ Our partner Atradius (Trusted Shops) gives you money back a warranty We ask to consider you that the dispatch of the commodity ordered by you takes place only after receipt of your payment on our bank account.
Our bank account for payments abroad:
For safety reasons this is only communicated to you in the order confirmation.
with European Union switch transfers is justified your bank to compute fees.
These go to your loads, please select you the option "OUR". We recommend therefore the on-line transfer.
Please you note that transfers (also on-line) need 1-3 bank working-days. The internal posting takes place automatically a working-day after validity on our account by electronic account statement. With urgent orders is to be advised against therefore the payment by vorauskasse.
2. Credit Card
We accept credit card VISA, MASTERCARD, AMERICAN EXPRESS,

The amount is loaded on the day of the distribution of your credit card! In contrast to the credit card payment in a business, you do not have to carry a signature out in our Shop with the transmission of their data (credit card number and expiration date). They indicate only additionally to your credit card data the so-called check digit (on the back of the credit card in the signature field). The security of your payment is not reduced thereby. In contrast to the map payment in the business you have the advantage during the on-line payment even that no unauthorized third view can take into your credit card data.
Ein Zuschlag von 3,25 % wird berechnet!
3. PAYPAL
4. Cash on delivery
you pay comfortably with the postman (6.15 EUR + fee of the post office 2.00 EUR) the dispatch of your order effected with availability as fast as possible. Guarantee please that you hold sufficiently cash ready, in order to be able to receive your transmission. Only in Germany possible.
5. Direct debit/debit
after order entrance is loaded the amount after examination of the availability on the day of the order your account! Only in Germany possible.